This contest is no longer accepting new entries!
Finally I am revving up for my first giveaway! Woohoo, yay!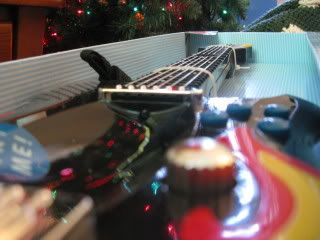 First, I want to extend a thanks to Jessica at
JessicaKnows
for her
15 Days of Marketing series
that has gotten me this far. Next, I want to extend a thank you to Heather of
Freebies 4 Mom
for her
posting about blog layout tips and tutorials.
Those made it possible for me to make the 3 column template you are looking at, and add most of the features in the sidebars.
Now, on to the good part. I am
giving away
one of
Target
's "My Rocking Guitar" for
FREE
this week. Yes, I said for free! My son absolutely loves this guitar and I wanted to pass one on to one other lucky child for this holiday season.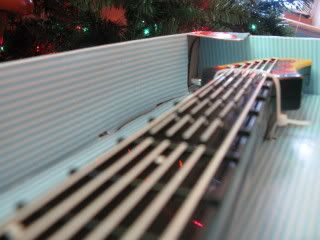 Since learning how to walk, all my son wants to do when we shop is walk behind the cart and push it. So, my husband decided one day to set the
Little Tikes Tap-A-Tune xylophone
in front of him and let him bang away. Yesterday, we were walking through Target, and we were looking for some kind of push toy or noisy bang toy that would keep him occupied while we shopped. I had seen someone grab this guitar off the shelf, and it looked odd because it had a red light and not many buttons. When we looked closer to where the "Try Me" button was, we noticed that to 'strum' the guitar all you have to do is wave or wiggle your fingers in front of the lights.
This seemed perfect, because my son has known how to hold and play a guitar for months from watching my hubby play
Guitar Hero
on the PS3. So, we place the guitar in his little hands, and he immediately holds it the right way and begins strumming away. He was very shocked when sound began resonating as he played it. He was so used to playing with the fake noiseless remote guitar for
Guitar Hero.
Check out this
video
of him strumming away while we walked through Target doing the rest of our shopping.
Now, I also decided to buy an extra one to give away to
one lucky winner
here on this blog. The one I am giving away is pictured exactly as is below.
This giveaway will run from today, December 3rd until

Wednesday, December 10th at 11:59 pm EST.
The winner will be determined using
Random.org
, and I will announce the winner by 8:30 AM EST on Thursday, December 11th.
So, how can you get one of these awesome guitars for the little one on your list? I have 4 easy ways for you to be able to enter. Also, a few of them are unlimited, so really you could have an unlimited number of entries into this contest.
Note: Please make sure you include your email address so that I can contact you if you win.
1.
For 1 entry, blog about what musical instrument your child likes the best or their funniest musical moment.
Include pictures if you have them. Then in the comments section of this post, link to your blog posting. Or if you are not a blogger, simply tell us your story below in the comments.
2.
For 1 entry, subscribe to my email RSS feed using the link in the top of the left sidebar.
Then leave a comment in the section below with the same email address.
3.
For 1 entry per tweet,
tweet about this giveaway as many times as you like, and be sure to include @Mama4Kids so that I know about it.
Or just copy and paste this tweet "RT: Win a Target My Rocking Guitar from @Mama4Kids at http://tinyurl.com/guitargiveaway" Yes, this will give you as many entries as you want.
4.
For 5 entries, take a video of your kid(s) playing an instrument, singing, and/or dancing. Be creative and funny!
I know your kids are, so let them shine. Use 12seconds.tv or YouTube or any other video blogger you want. Once you upload it to one of those sites, be sure to post a comment below with the URL link to your video. This will get you
5 entries
to this contest, and you can submit as many videos as you want. Just don't post the same video or links.
Be sure to let your friends in on the fun, and don't forget to subscribe to my email RSS feed to know if you have won.
Good luck!